A 4-2 victory over Trafford College see's Eccles Men's 3rds jump to second in the league.
After the opposition cancelled the previous fixture, it was decided that the rematch would be a double point game due to a congested fixture list.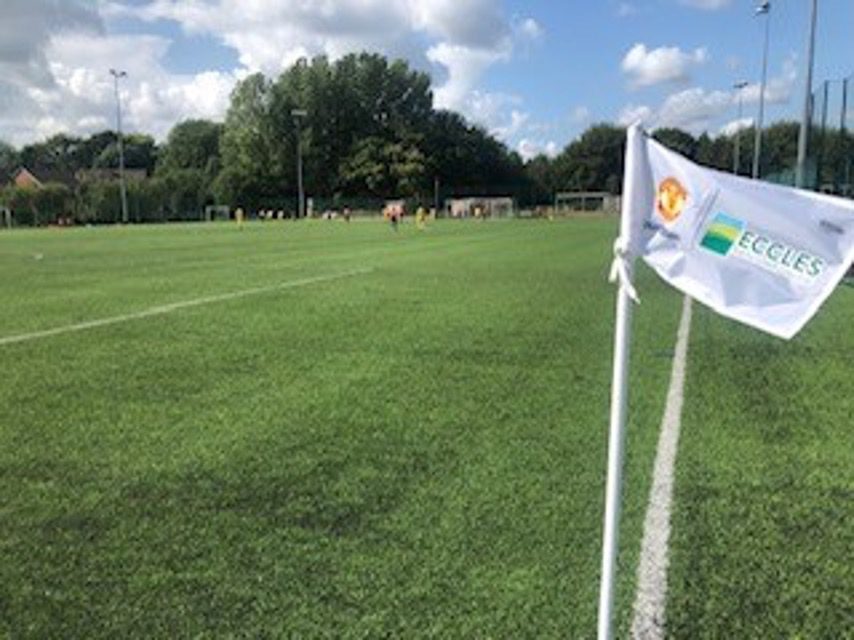 Both teams headed into the game knowing the six points would play a pivotal role in their league position at the end of the season. Second year student Josh Keelan put the Eccles side 1-0 up after meeting a Will Donnelly corner, the powerful header drove into the ground and the awkward bounce found the Trafford scrambling and the ball was parried into the roof of the net. A very scrappy first half then played out, the lack of shape or formation from the Trafford side caused havoc all over the pitch and it was difficult for the home side to find a rhythm. Second year keeper Tadi Matsvayi made two outstanding saves late in the half to keep the game at 1-0.
The second half started in much of the same fashion. With little time on the ball the Eccles side struggled to create any clear cut chances but their excellent shape and discipline also meant the Trafford side didn't have a shot on target for the first twenty minutes of the second half. Team captain Bailly Parish found himself 1v1 with the keeper and calmly slotted home to give Eccles a 2-0 lead. What should have been a simple victory soon became a fight for 2 points. A foul out wide saw the following Trafford free kick find the top corner then shortly after a rocket of a strike from 25 yards tied the game at 2-2 with ten minutes to go. It was first year forward Ortega Oseke who broke the deadlock,  making a darting run behind the Trafford defence he slotted the ball into the bottom corner to take the game to 3-2 in the dying minutes.
A late push from the away side allowed the same scenario to happen again, this time Oseke sliding the ball sideways to Mo Bangura who drove the ball into the roof of the net and killed the game with less than a minute to go.
Eccles Sixth Form 3rds 4 - 2 Trafford College
Goals: B Parish, O Oseke, M Bangura, J Keelan
M.O.M: O Williams