Girls in ICT Day
Getting Girls into ICT
Getting women into tech careers has never been more important. In 2020, the number of girls choosing to study computer science GCSE was 16,919 – just over 21.4% of total entrants – compared with 61,540 boys.
A recent study by the Learning and Work Institute found a gender gap in digital skills, with young women accounting for just 17% of A-level entrants in IT subjects. There have also been concerns that fewer girls are choosing to study computing since the old information communication technology (ICT) GCSE qualification was phased out and replaced by computer science. So, what can we do to change this?
Girls in ICT Day
Today we celebrate International Girls in ICT Day, recognised across the world in seeking to inspire young girls to study and pursue technology. This day highlights female role models in technology as a way to encourage girls to take up careers in the technology sector. It hopes to increase interest in information and communication technology amongst young girls to help balance the gender gap within the workforce.
In celebration of Girls in ICT Day we have interviewed two of our former students to explore their College journey, including the up's and down's, with some inspiring advice for young girls thinking about pursuing a career in ICT.
Meet Hubat…
We spoke to Hubat-Ul-Waqeel Neeha, one of our former FutureSkills students at MediaCityUK, who began her journey in 2017, studying ICT.
My name is Hubat-Ul-Waqeel Neeha, and I was born and raised in Karachi, Pakistan, in a city called Kunri. This is where I was born, and I was a student there until my tenth year. In 2015 our family decided to relocate to the United Kingdom; two years later, I started my journey in ICT at FutureSkills. This is where I spent four years of my life and it truly felt like home to me.
After moving to the UK, it took some time to become accustomed to co-education – in Kunri I attended a girls-only school, with 50 girls in my class. Starting high school in the UK was initially very difficult as I did not speak or understand English. I struggled to communicate with my teachers and peers; this part of my life was very challenging.
After receiving my school results, I enrolled at CitySkills in Salford to complete the ESOL (English for Speakers of Other Languages) course that they deliver. This course allowed me to improve my English and help forge a successful career. I met people from my home country and all my teachers were extremely caring and helpful. One day I had a one-on-one meeting with one of my tutors and expressed my interest in IT Software at FutureSkills. She pushed me to apply and not long after I received a letter from FutureSkills, inviting me to come in for enrolment. After an interview with one of the tutors at FutureSkills, I was offered a place on the course. This was one of the happiest times of my life.
My first day, in September 2017, particularly stands out to me as I realised, I was the only female in my class! This was a situation I had never been in before, however, to this day I owe a debt of gratitude to all my teachers for their unwavering support. Jennifer Gamble Flowers, one of the first teachers I met, understood how difficult it was for me to be the only girl in the class- she empowered me to complete the course. I believed, despite being the only female, I would not leave the course because it was my destiny. This was my dream, and I was not giving up. This led me to be nominated for IT Student of the Year, something I was truly not expecting.
The support and guidance I received throughout my time on the course were invaluable. I discussed my career options with my tutors and even the possibility of applying to university. In 2020 I started applying for university and submitted several applications; however, my preferred choice was the University of Salford and in 2021 I received my acceptance letter to study Computer Science.
I am currently in my first year of study at university and while there are lots of challenges, I have confronted these obstacles head-on. My advice to anyone thinking about pursuing a career in ICT would be to stay strong and shine positivity. Positivity attracts good things; I'm at the halfway point of my dream, I prayed and wished for my dreams to be granted and here I am! Don't forget to reach out for help, my teachers were fundamental in my journey, and they will help you to achieve your goals.
I hope you took something away from my story. Everyone has a unique journey to tell. I hope you had a wonderful year at Future Skills, remember to make this a memorable occasion.
Meet Mlaika…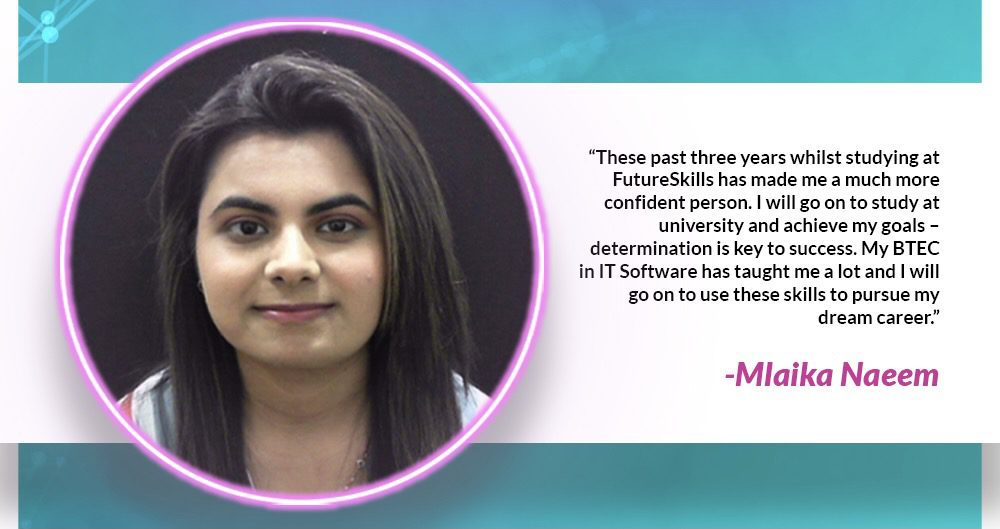 Mlaika Naeem graduated from FutureSkills in July 2021 after studying a BTEC Extended Diploma in IT Software. Here, Mlaika tells her story.
When I entered the UK, I wasn't very confident; the cultural differences scared me, and the language barrier was challenging. However, I was determined to work hard as I always wanted to make my life better and knew education was the key. Beginning my studies at FutureSkills was one of the best decisions of my life. I had an amazing journey while completing my BTEC Extended Diploma in IT Software.
My teachers at FutureSkills were amazing. They encouraged me to take part in different student union activities that helped me to improve my communication skills and made me more confident to meet and interact with new people. I also took part in tutorial activities, including an online mentor project. This experience allowed me to present the radio show for college which was played at the college cafe. I also took part in online programs like the DEVA/Hack (Digital Entrepreneurs and Video Artists Hackathon), and different coding activities online. After taking part in these activities, I was one of three students who received the college award for being an outstanding student in Computer Software.
These past three years whilst studying at FutureSkills has made me a much more confident person. I will go on to study at university and achieve my goals – determination is key to success. My BTEC in IT Software has taught me a lot and I will go on to use these skills to pursue my dream career.