The co-operative approach: collaborating is the key to success
6th January 2021
Earlier this year, retail group Co-op, recruited their first team of apprentices in collaboration with Apprenticeships at Salford City College. After two months working in their headquarters in Manchester, we caught up with the team over a virtual interview to see how they were getting on.
Plans for an apprenticeship programme originally stemmed from a wider programme in the Co-op sphere called My Co-op Career, which is a framework that they used to organise all the learning and development opportunities that are available to colleagues. The idea is to help people find the right pathway for them. In 2019, the team decided it was time to put that framework into the business services function of the organisation. Laura Bullen, Learning and Development Programme Manager at Co-op, said: "After much discussion about the potential for apprentices to join the business, we found that in sales and service, they had plans to take on more work in 2020. This gave us the head start to push for an apprenticeship in this sector. It also helped that they were really keen on bringing in new talent to the department."
The team were keen to bring in fresh talent to the business and by using an apprenticeship they were able to access a diverse range of candidates. Laura explained: "We were keen on bringing people into the business that may not have normally passed our interview process due to not having the relevant qualifications. We really wanted to recruit different types of people."
She added: "From the outset we wanted to widen participation and social mobility."
For many businesses and organisations apprenticeships are an investment. Investing in new talent is one way to ensure that you create a team of people who are able to grow with the business and who will later enhance the workplace. Louise Timperley, HR Apprenticeship Manager at Co-op, explained: "Apprenticeships are a new way of doing business. It's a new way of bringing in new creative ideas, new technology skills and driving more energy into the business. All the things you think about when you are recruiting new talent."
"The best thing I think about apprenticeships is that linking up of new talent with more experienced individuals within the business. It really is a two-way process, it's not just about the young people learning from the older people within the organisation. It works both ways and works well within any business, whatever sector."
Starting in the midst of a global pandemic, the ten newly recruited apprentices started their induction at Co-op through a series of virtual induction sessions. But as the measures relaxed, the team were able to reunite in the Co-op headquarters in Manchester city centre.
Nicole Heath, was working in a show jumping yard in Macclesfield but was unfortunately let go due to Covid-19 before starting her apprenticeship at Co-op. Since starting the Customer Service apprenticeship her confidence and customer service skills have improve drastically. She commented: "So much of the role is talking to customers and building on our customer service skills, so since working here those skills have dramatically improved."
Gabby Savage-Dickson graduated from University in the summer of this year with a degree in illustration and animation and found herself working in bar job which she didn't enjoy. She explained: "My degree was quite narrow and there wasn't a lot of job opportunities at the time of me leaving University given the current circumstances. I was enjoyed working at Co-op so much whilst I was studying, that when I came across the apprenticeship I thought that it would be perfect for me."
Six weeks into the apprenticeship Gabby explained that she has already learnt so much from the team. She added: "For me, my IT skills have really improved throughout all the training that we have received. I haven't really been on a computer since I was 18 at college, so coming here and learning all about IT has really helped me."
For these apprentices the future is bright. With many avenues to go down within Co-op, there are endless possibilities. For Nicole, the goal is to work her way up in the head office to a higher position in the future. But for Gabby, working within the community is where she would like to go. She explained: "I definitely think that working in the community is something that I would like to do. I did a couple of units within the apprenticeship on community arts and other projects like that. Co-op do a lot of funding on community projects and so it's something I would really like to pursue in the future."
The man in charge of training and mentoring these apprentices is Matt Davidson, the Sales and Community Team Manager. Having been at Co-op for almost five years and seen the team grow from 25 to around 600 people across different sites in the UK and South Africa, Matt has been there to guide the apprentices.
Speaking about the experience he has had so far, Matt said: "I have loved every second of working with these apprentices. To watch 10 strangers come together and create their own little family in the space of two months has been amazing. They're such a tight-knit group and it's amazing to see how they have stuck together and really looked out for each other."
He added: "To walk past and see them working together so well has been a testament to their hard work and it's so nice to see as a manager. We've still got another 13 months to go, but I'm really excited to see where this takes them."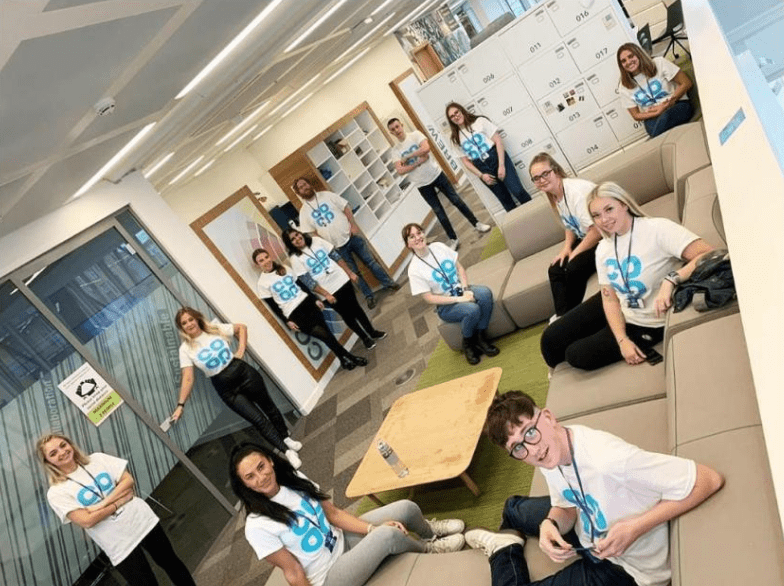 If you are wanting to find out more about Apprenticeships at Salford City College, contact the team to find out more on 0161 631 5555 or email apprenticeships@salfordcc.ac.uk