The Sector Based Work Academy is an award-winning programme that has been running since 2012. It is a partnership between Apprenticeships at Salford City College, The Northern Care Alliance and Job Centre Plus, and is designed to get unemployed Salford residents who have an interest in adult care into permanent employment. The programme runs twice a year and has supported a wide range of learners to date.

Each candidate attends College for four weeks, where they complete a Level 1 Diploma in Health & Social Care. They then go on a ward placement at Salford Royal Hospital, where they do two unpaid 12 hour shifts a week for five weeks. During the placement, they are mentored by the Apprenticeship Pastoral Support Leader, Sally Ogden, to gather evidence for their files. Sally also helps them to apply for jobs and practices interview techniques with them.

The programme this year has had some exceptional candidates from a range of backgrounds, and so far, the outcomes for them are looking to lead to very bright futures.
Aimee Kanko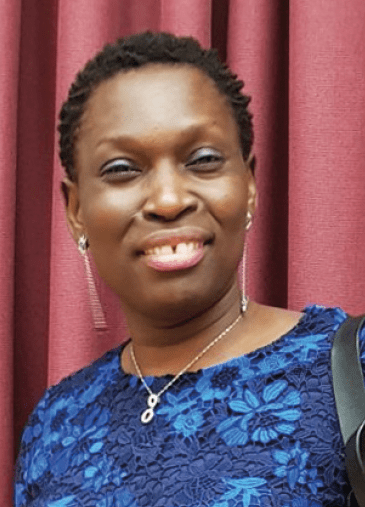 Originally from Cameroon, Aimee had struggled with some of her family's attitudes towards her Aunt, who suffered with poor mental health. Cameroon itself currently has no mental health legislation or emergency planning, and no specific budget for mental health across the country, which has led to insignificant provision for mental health sufferers. In some cases, patients have undergone several forms of torture from healers who believe mental illness is divine punishment for wrongdoing, or witchcraft.
Aimee started researching alternative ways to support her Aunt, and became interested in pursuing a career within mental health through doing so. She applied for the Sector Based Work Academy to gain more knowledge and experience in the field, which for Aimee, has been invaluable.

"Working at Salford Royal as a Clinical Support Worker through the Sector Based Work Academy programme with the collaboration of Apprenticeships at Salford City College and The Northern Care Alliance will remain memorable," Aimee said. "This programme offers an amazing opportunity to start our career in the NHS. It offered me pre-employment training, where qualified teachers used a flexible approach to help me gain new skills and gain a certificate that is required to work in the health care environment. It has also helped me gain work experience through a placement at one of the most reputable hospitals in the North-West.
"Through this programme, I was lucky to meet one of the best work experience managers ever. Whatever happened on the ward, she was there to play the thoughtful part. It is important to mention that she was always keen to be my referee each time it was requested. Furthermore, she helped me complete different application forms and fill in an uncountable amount of paperwork. In fact, she supported me during the entire recruitment process. Up to this date, like a mother, she keeps calling me to know where I am up to with my contract and university offer."

Aimee has now been accepted onto a Mental Health Nursing Apprenticeship with the Pennine Care NHS Foundation Trust, and has started day release at Salford University.

Pastoral Support Leader Sally works incredibly hard to support the trainees, like Aimee, throughout the programme and onto their next steps. Sally said: "This programme provides amazing opportunities for unemployed Salford residents who have a passion to work within the care sector. Aimee has grasped this opportunity with both hands and has been very focused on getting as much as she can from the experience. She worked hard at College and on placement and has now reaped the rewards for her effort. I am sure that Aimee will eventually become an exceptional Mental Health Nurse."

Aimee continues: "I would like to use this opportunity to say a huge thank you to all members of staff who made my dream come true, especially Sally. Sally is so supportive and helpful in a way that warms a heart. I will never forget her kindness and understanding, which can never be repaid. She is a star."
Arnold Keungmeue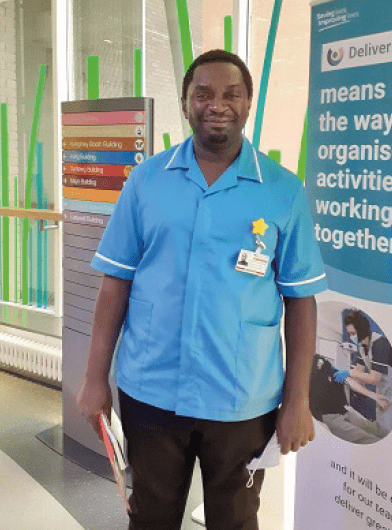 Arnold fled Civil War in the Central African Republic as a young man. As a refugee, he spoke no English upon arriving in the UK, but through sheer grit and determination, found employment for himself whilst enrolling at the College to study IT, English and Biology. After completing these studies, he was accepted onto the Sector Based Work Academy programme, and has since gone from strength to strength. In February this year, he was awarded the Sector Based Work Academy Award at the Apprenticeships at Salford City College Annual Awards.

Arnold said: "I would like to say thank you to the team. At first, I was impressed by the respect and esteem you have towards each other. The ability to share the great value and knowledge whilst enhancing such empathy and passion. I could never imagine being part of this, I am so grateful, and I feel so honoured. I have learnt more than you guys could have ever thought; the values and confidence you gave me are worth enough to guide me through the path I am going to make.

"To tell you exactly how I feel cannot be expressed by words; you are life changing and an inspiration. The impact you have on people is tremendous. The only thing that I can say is thank you for your support, time, care and love."

Angela Abbott, CT Service Manager at the Salford Northern Care Alliance, said: "Arnold has gone down a treat. Everyone loves him, and #BeMoreArnold is now the department motto!"
Arnold now works in the Radiology Department at Salford Royal, and with the help of Sally, is in the process of enrolling onto a degree apprenticeship in Radiology.

"Arnold is desperate to eventually become a fully-qualified Radiologist," Sally said. "He has told me that he will definitely become qualified within the next 5 years and I have no reason to doubt him. He's amazing!"
Paul Smith
The programme has had many successful candidates from past years' cohorts too, such as Paul Smith, who undertook the programme in 2018. Like Arnold, Paul was awarded the 'Sector Based Work Academy Award' at the 2019 Apprenticeships at Salford City College Annual Awards.

Paul is currently in his second year of the Trainee Nurse Associate programme at Salford Royal Hospital. Coming from a retail background with no previous experience in care, Paul applied for the Nursing Associates Programme within the first 12 months of working as a permanent Clinical Support Worker, and was successful.

Paul said "I'm finding, even now, that everything I learned in the Level 1 Diploma in Health & Social Care course as part of the programme, I can use every day at work. By the end of the programme, I had four job offers, which was great for me as I could choose the one that suited me best. The best thing for me about the programme was the people that I met along the way."
Find Out More…
To find out more about the Sector Based Work Academy, contact Sally Ogden: sally.ogden@salfordcc.ac.uk or call 07834 171911.

To be eligible for the programme, you must meet the following criteria:
• Aged 19+
• An unemployed Salford resident
• Have been resident in the UK for 3 years
• Must have proof of benefit letter and valid ID
• Must not be on any other College study programme