Kidzrus: Nurturing Children & the Childcare Apprentices of the Future
One thing is immediately apparent when stepping foot into the Kidzrus MediaCity nursery: Warmth. The welcome, friendly and homely atmosphere of the nursery, reflected in both its staff and the children that attend there, is something that instantly hits you.

This is something that Director, Nicola Fleury, holds dear. With the nursery motto being 'Every Child, Every Chance', Nicola's main aim is to provide a personal, warm and happy environment for children, staff and parents.

Starting her career as a Childminder, Nicola always had the vision of developing a group of high-quality nurseries across Salford. The Kidzrus Group, initially formed in 2010, is now a collection of five nurseries and one forest school, including the MediaCity nursery.

Since before Kidzrus' inception, Nicola has created opportunities for her staff to learn and develop through work placements and apprenticeships. "In as early as 2006, as a Childminder, I established a link with Salford City College Group whereby I became a placement provider for many of the students. I opened our first Kidzrus setting in Swinton in 2010, and from then on, Kidzrus have developed a wonderful relationship with the College. We have attended open events, delivered presentations to prospective childcare practitioners, and recruited many apprentices with guidance from the Apprenticeship Team. Many of these apprentices have been successful with us over the years, with one of our Deputy Managers at Swinton having started her own career as a placement student and then an apprentice."

The nurseries operate with an apprentice 'buddying' system, where an apprentice is linked up with an established staff member who will take them under their wing and show them a lot of the practical side of things, all the while nurturing them with their experience. "This ensures apprentices can progress wherever they want to within the Kidzrus Group should they choose to. It's a great thing for us, because we are able to recruit the apprentice early on in their career and show them the 'Kidzrus Way', which means they will be able to become a really great childcare practitioner," Nicola said.

"We have an in-house training academy within the Kidzrus group for all staff members, which gives apprentices the opportunity to talk about how they are doing, what their expectations are, if they need any additional support or training, and access our internal software which includes over 100 online courses. This is upskilling them personally and professionally and giving them the opportunity to gain essential knowledge. It also means we can enhance and empower our staff to focus on any particular field within childcare that they choose to."

Coming out of the pandemic, like many other businesses, Kidzrus are facing recruitment challenges. "We are not alone with this," Nicola stated, "as it seems to be across every sector. However, it's great that we can take apprentices on board through this ever-challenging time, and it helps us so much by having the wonderful partnership we do with Salford City College Group – to grant us more hands on deck for the team here, whilst giving the apprentices opportunities and opening doors for them."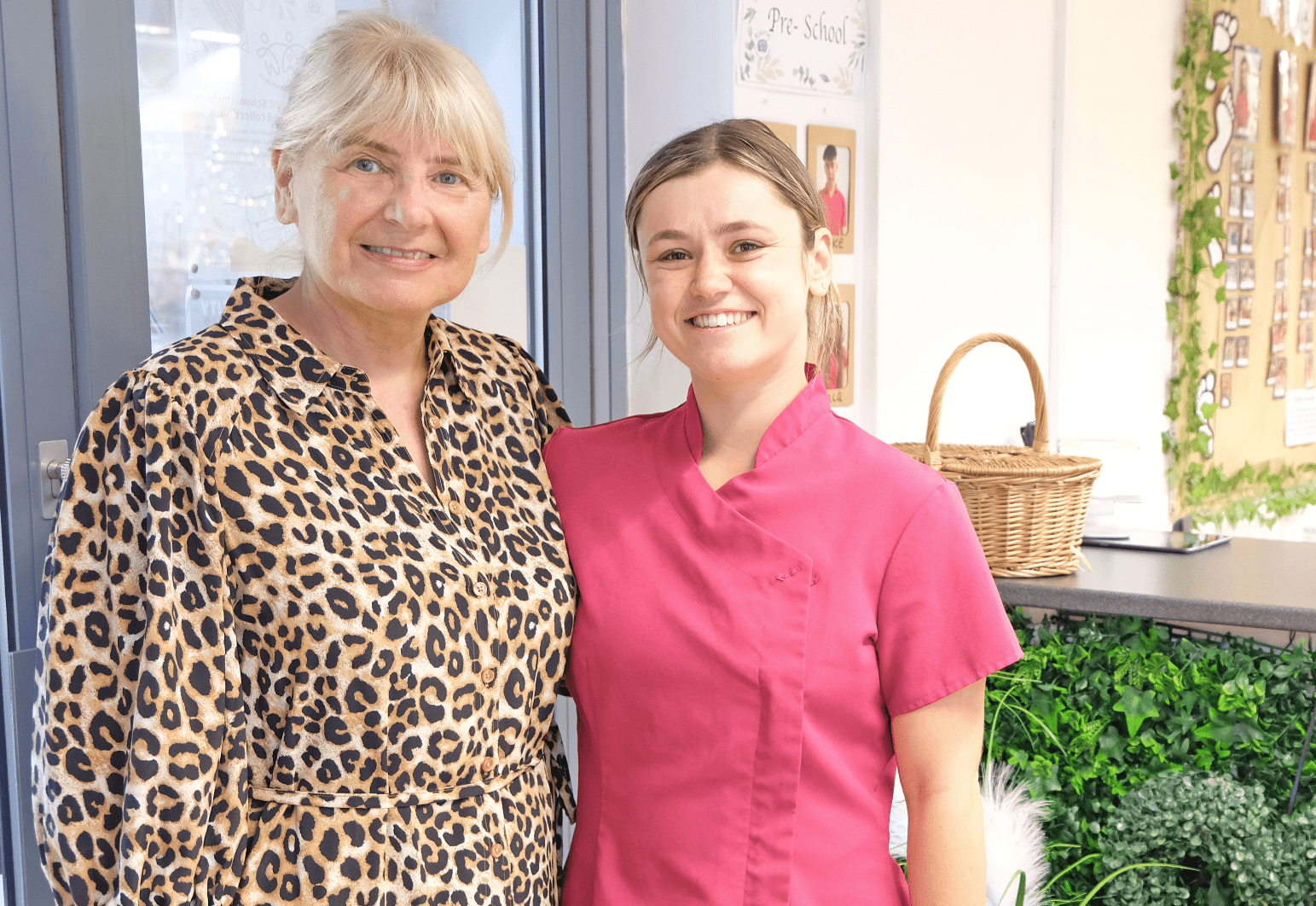 One of these apprentices is Jessica Townsley, Room Leader in the Pre-School Room and recently appointed 'Third in Charge' at the MediaCity Nursery. "I always knew I had a big love for working with children, but when I came into this job role here, I wanted that extra knowledge, and knew that I wanted to step up into a management role – so to do that I needed the qualification behind me. This was the get-go for me doing my apprenticeship," Jessica said.

In her day-to-day role, Jessica is responsible for making sure everybody in the pre-school room knows what they are doing, as well as covering the day-to-day planning for the children; covering all different areas of learning as specified by the EYFS. "I make sure all observations are done, any assessments, and talk it through with the parents," Jessica said. "With my recent appointment of Third in Charge, I have taken on a wider responsibility, showing visitors around, getting new children on board and so on."
Balancing these responsibilities with her apprenticeship work, Jessica tells of her experience: "I have video calls with the Apprenticeship Team here at work whilst on shift which is really great, and they tell me what I need to do for my coursework and what's required for the apprenticeship."

"My apprenticeship is a great opportunity to develop my skills and knowledge whilst in the workplace as well because I am learning day-to-day. Knowledge is power, and it will enable you to progress in your career, which is something I personally want to do."

Jessica is just one example of the many apprentices Kidzrus have nurtured across their Salford settings. Providing these opportunities, along with equipping their apprentices with an in-depth knowledge of working within their sector and enabling them to grow in confidence are just some of the reasons the Group were awarded with the 'Medium Employer of the Year' award. This was awarded at the Annual Apprenticeships at Salford City College Awards earlier this year.
"We were absolutely thrilled to receive the award," Nicola said. "The event itself was a wonderful evening, extremely well organised, and it was an honour and a pleasure to receive the 'Medium Employer of the Year' Award. We have great links with the College in numerous ways, from providing placements and apprenticeships, having teachers attend CPD Industry days with us, but also even caring for staff and students' children, particularly ESOL students in the area here at our MediaCity nursery. I'm passionate about helping the people of Salford, being one myself, so to be recognised for this was the icing on the cake for us."

To find out more about the Childcare & Early Years apprenticeships that Apprenticeships at Salford City College offer, contact 0161 631 5555 or email apprenticeships@salfordcc.ac.uk.
To find out more about Kidzrus, visit www.kidzrusnursery.co.uk.